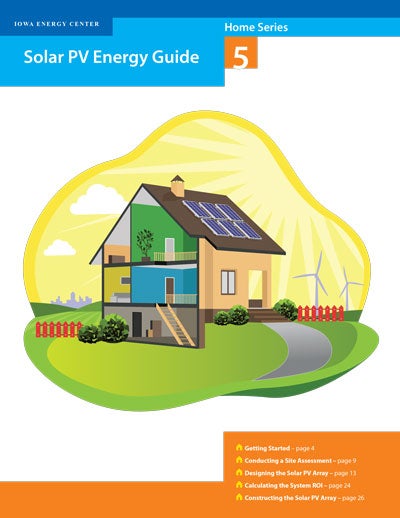 As your electric cooperative and energy provider, Farmers Electric Cooperative, Inc. is working to educate our staff and members on the many aspects of emerging renewable and distributed generation (DG) technologies. Our goal is to support our members with reliable, objective information on energy and efficiency options to best serve the entire membership. We strive to be your trusted energy source as new technologies become available in this ever changing industry. 
The publication available by selecting the image at the right was completed by the Iowa Energy Center as a reference guide when considering adding a solar photovotaic (PV) energy system to your home.  
Other required documents are listed below. These items are PDF documents that can be downloaded, printed, reviewed and signed. Please feel free to call our office directly at 1-800-397-4821 with any questions.
Please note: Farmers Electric pays for all excess generation at avoided cost- we do not net meter.
Level 1 Application and Agreement
Level 2-4 Application and Agreement
Cogeneration and Small Power Production Tariff