Capital Credits also known as Deferred Patronage Dividends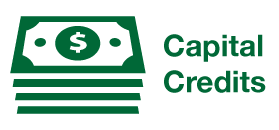 As a nonprofit electric cooperative, Farmers Electric Cooperative allocates our annual operating margins, or profits, to members receiving service during the year. These margins (revenue in excess of expenses) are allocated using a proportional ratio (using the dollar amount of electric service that each member purchases in a year compared to the total electric service purchased by all members) and are called capital credits. They are used by Farmers Electric for operating funds and paid back to our members as the financial condition of the cooperative permits and as bylaw provisions are met.
If you cease to purchase energy from Farmers Electric Cooperative, please keep us informed of your address in future years. This will enable us to forward payment when the capital credits are refunded for the years of your membership.